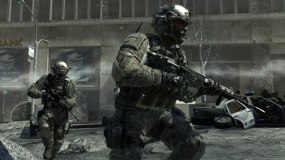 Modern of Warfare 3 (Ist)
Antusiasme terhadap game Modern Warfare 3 memang tidak bisa diprediksi. Baru-baru ini terjadi sebuah kejadian nekat yang dilakukan sekelompok pencuri bersenjata di mana mereka mencuri ribuan kopian game Modern Warfare 3.
Kejadian kriminal yang menimpa truk bermuatan kopian seri terakhir Call of Duty ini berlangsung di sebuah tempat dekat Paris. Skenarionya, para perampok memblokir jalan raya dengan sebelumnya menciptakan tabrakan mobil.
Nah
, ketika
sang sopir pembawa kopian game keluar dari truk, perampok kemudian menyerangnya dengan gas air mata. Dalam kondisi sopir yang tak berdaya, perampok kemudian mencuri muatan truk yang tak lain adalah 6.000 kopi Modern Warfare 3.
Tak hanya 1 truk yang menjadi korban, truk lainnya yang sedang dalam perjalanan menuju sebuah toko di distrik Yvelines turut diserang oleh 3 pencuri. Mereka menakut-nakuti sopir truk itu dengan senjata api.
Diperkirakan, total kerugian akibat pencurian ini mencapai 750 ribu euro, demikian dikutip
detikINET
dari ITProPortal, Kamis (8/11/2011).
Belum diketahui secara pasti apa yang akan dilakukan pencuri terhadap ribuan kopian tersebut namun sepertinya mereka akan menjual Modern Warfare 3 pada penggila game tersebut sebelum ia dirilis. Sebelumnya diberitakan bahwa ada orang yang bersedia membayar lebih dari USD 1.700 (Rp 15 juta) untuk kopian game ini yang dijual di eBay.
Call of Duty: Modern Warfare 3 sedianya diluncurkan tanggal 8 November waktu setempat. Ia hadir untuk piranti PC, PS3, Wii dan Xbox 360.
Sumber :
Detik.net